日本語サイト
Exchange of views with H.E. Mr. Ignazio CASSIS, President and Head of the Federal Department of Foreign Affairs of the Swiss Confederation
Published on April 19, 2022
日本語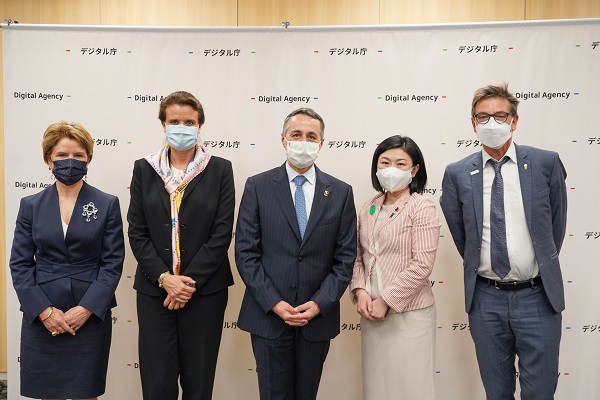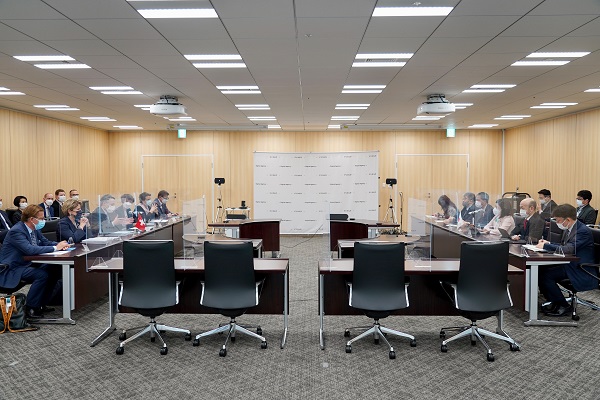 On April 19, 2022, Dr. Karen MAKISHIMA, then Minister for Digital held dialogue with H.E. Mr. Ignazio CASSIS, President and Head of the Federal Department of Foreign Affairs of the Swiss Confederation, during his visit to Japan at the Digital Agency.
Overview
Minister Makishima welcomed President Cassis's visit to Japan and mentioned that "the Digital Agency is making various efforts to develop a prosperous human society through "people-friendly digitalization, where no one left behind" and that based on this perspective, the Digital Agency desires to contribute to strengthening Japan's international competitiveness and to contribute to the global community." In this context, she mentioned that she would like to work closely with Switzerland, a significant partner with over 150 years of friendship and shared fundamental values. President Cassis expressed his gratitude and commented that digitalization is a major theme in Switzerland's domestic and foreign policy.
In conversations, Minister Makishima and President Cassis decided to discuss further on the future collaboration between Switzerland and Japan in the digital field.
Exchange of views on digitalization initiatives in both Japan and Switzerland
Minister Makishima introduced the Digital Agency's mission, vision and values, the role of the Digital Agency as a command post, and the Digital Agency's efforts towards Japan's digitalization and digital transformation, including the Data Free Flow with Trust (DFFT) initiatives.
In response, President Cassis presented Switzerland's digital strategy and digitalization efforts, including the Digital Switzerland Strategy and digital self-determination established in 2020.
During the meaningful exchange of views, President Cassis showed strong interest in the Digital Agency's function as a command post and the process of its establishment and initiatives.
Based on the meeting, Minister Makishima and President Cassis shared the intention to continue promoting collaboration between Japan and Switzerland, including knowledge sharing.