日本語サイト
Memorandum of Cooperation with the Republic of Tunisia in the Digital Field
Published on October 11, 2023
Mr. Kono Taro, Minister for Digital Transformation, and Dr. Nizar Bem Neji, Minister of Communication Technologies signed a Memorandum of Cooperation (MoC) in the areas of digital government at the Digital Agency of Japan on October 10, 2023.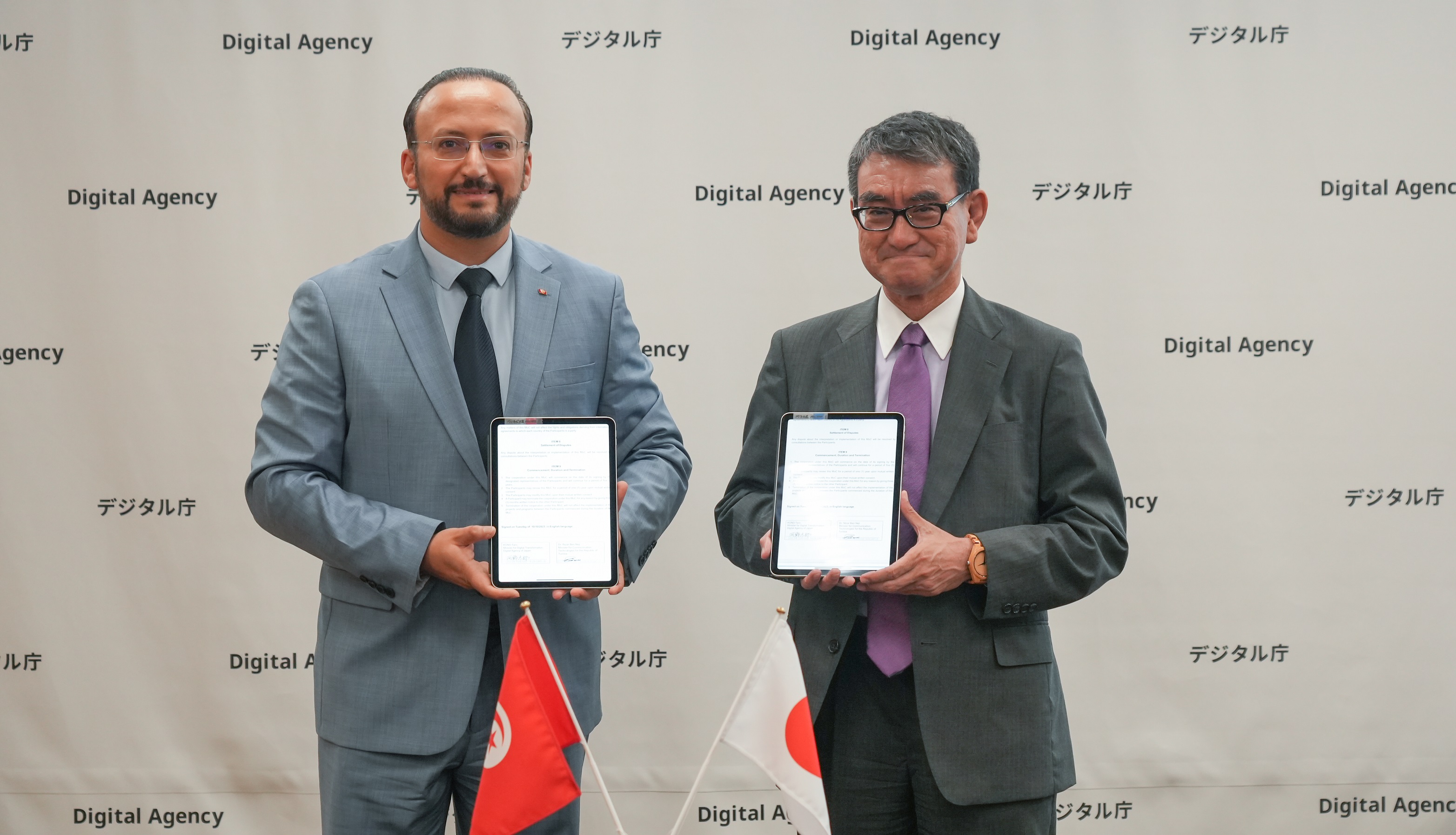 Overview
During the meeting, Minister Kono provided an update on the progress to establish the IAP endorsed at G7 this year. In response, Minister Neji stressed the importance of collaborating with other countries to effectively address potential global pandemics and expressed his desire to cooperate towards the operationalization of DFFT. He also shared the progress of Tunisia's digital and cybersecurity organizations, and highlighted policy initiatives such as the promotion of mobile IDs, e-government services, the status of online procurement systems, the development of digital human resources, and the utilization of AI. They also exchanged views on the impact of generative AI on non-English speaking and minority language countries.
The MoC signing ceremony was held after the meeting.
Details of MoC
Objective
This MoC aims to promote the sharing of best practices, encouraging governmental collaboration and the joint projects in the areas of digital government between the two countries.
Main areas of cooperation
Cooperation and sharing of best practices in the areas of Digital Government
Cooperation in building capacities and trainings in the areas of Digital Government
Exchange of information, experiences and lessons learned in the fields of digital government transformation and reforming traditional approaches to technology adoption
Exchange of experience, expertise and knowledge in new digital technologies
Duration
This MoC will commence on the date of signature and will continue for a period of five years.
Signatories
Mr. Kono Taro, Minister for Digital Transformation (Japan side)
Dr. Nizar Bem Neji, Minister of Communication Technologies (Tunisia side)
Appendix