日本語サイト
Memorandum of Cooperation with the Kingdom of Saudi Arabia in the Digital Field
Published on October 12, 2023
Mr. Kono Taro, Minister for Digital Transformation and Mr. Abdullah bin Amer Alswaha, Minister of Communications and Information Technology, signed a Memorandum of Cooperation (MoC) in the fields of information technology, communications, and the digital economy at the Digital Agency of Japan on October 11, 2023.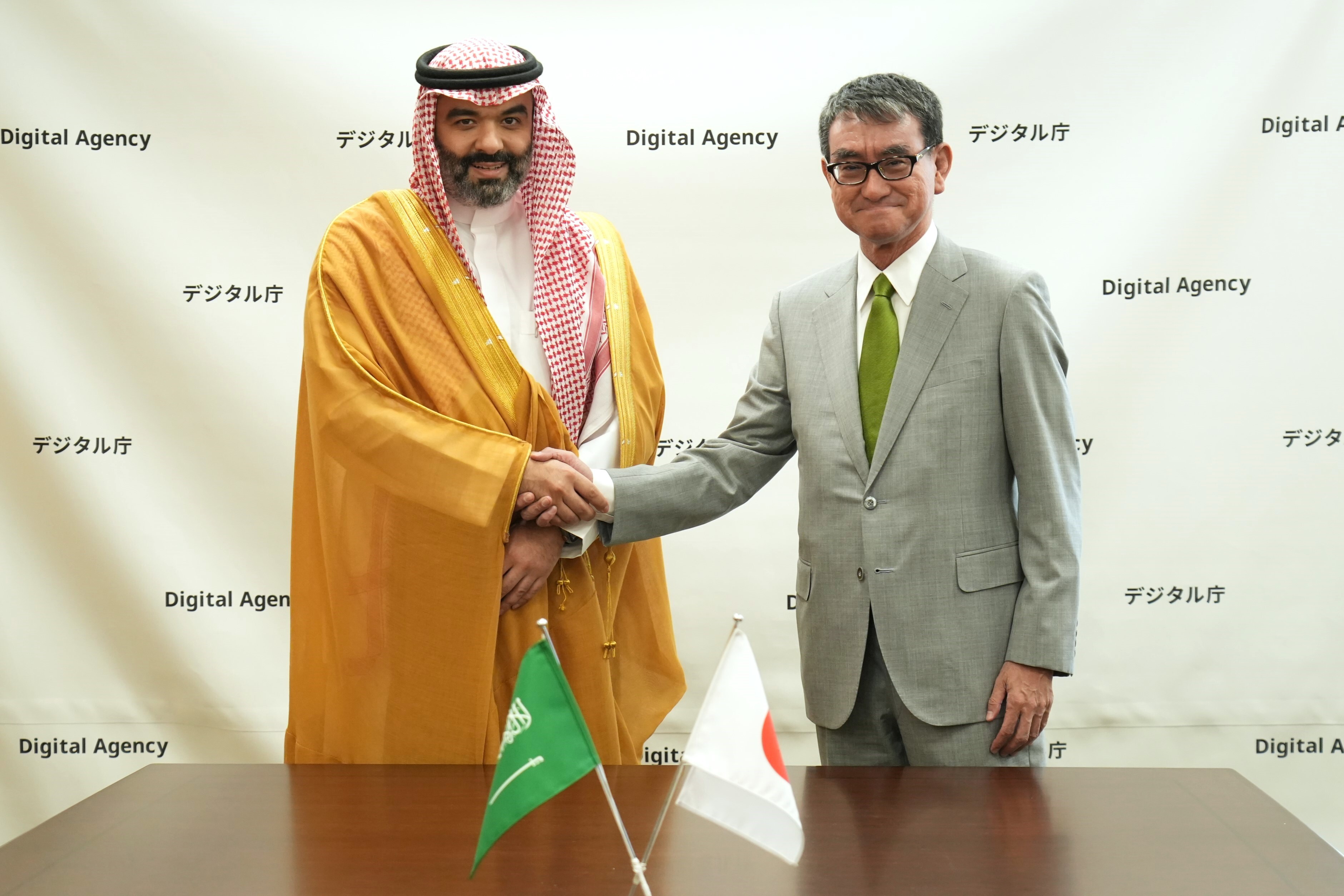 Overview
Minister Kono extended a warm welcome to Minister Alswaha for his visit to the Digital Agency, and they discussed digital ID initiatives that their countries are promoting, as well as DFFT (Data Free Flow with Trust), IAP, AI, and cybersecurity. They also confirmed their commitment to collaborate closely in the future.
Minister Alswaha expressed his view that, "Japan has been a strategic and trusted partner of the Kingdom of Saudi Arabia for decades. This MoC represents our historically warm ties, a shared vision in developing our digital economies and a commitment to fostering innovation and creativity. Our bilateral collaboration through this MoC will build a sustainable future across different sectors that benefits people and the environment and promotes economic growth."
Following the meeting, the Ministers signed the MoC with an aim to establish a sustained collaborative partnership by exchanging best practices in digital public administration reform, digital governance, and the digitalization of public services along with personnel exchange between the two countries.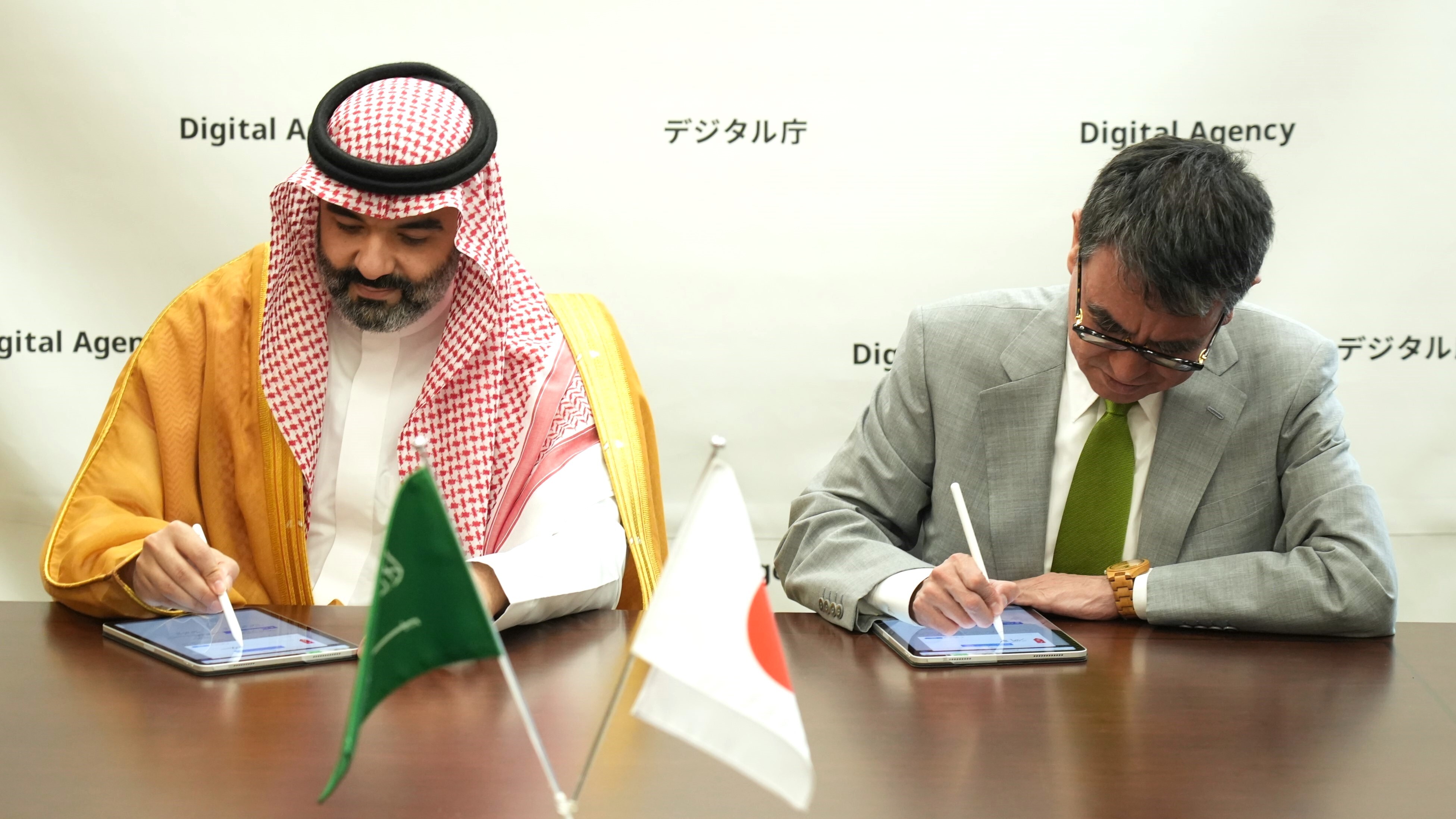 Details of MoC
Objective
This MoC aims to facilitate and promote collaboration, knowledge-sharing, and exchange of expertise in communications technology and the digital economy between the two countries in compliance with their respective national laws and capabilities.
Main areas of cooperation
Digital Government

Exchange of information on best practices, policies and regulations on issues related to digital transformation, digital government industry development, interoperability standards, and emerging technologies
Joint initiatives to promote the growth of digital government services and standards, including but not limited to digital platforms, e-signatures and authentication
Exchange of information on the development of digital government services.
Capacity-building in the areas of digital government
Exchange of knowledge in the areas of e-Participation and benefit from the digital government services for vulnerable groups such as children, older persons and persons with disabilities
Cooperation in the areas of research and innovation, and the establishment of research teams to study issues of common interest to develop digital government services
Collaboration in the development and exchange of knowledge in the areas of providing digital identity and trust services

Emerging Technologies
Exchange of best practices and policies that enable businesses utilization of emerging technologies and improve customer experience
Other areas of cooperation decided by the participants
Duration
This MoC will commence on the date of the notification from the Ministry of Communications and Information Technology of the Kingdom of Saudi Arabia and shall remain in effect of three years, subject to renewal by mutual written agreement.
Signatories
This Memorandum was written in Arabic, English, and Japanese with both original copies signed in Tokyo on October 11, 2023. In case of difference in interpretation, the English text will be prevailed.
Signed by:
Mr. Kono Taro, Minister for Digital Transformation (Japan side)
Mr. Abdullah Amer Alswaha, Minister of Communications and Information Technology (Saudi Arabia side)
Appendix